HISTORY – EXPERIENCE – MULTICULTURAL ENVIRONMENT
The International School of Paphos (ISOP) is a private, dynamic, forward-thinking co-educational school founded in 1987, and is today, one of the top private schools in Cyprus, situated on a magnificent campus.
Dedicated, caring, experienced, well-qualified and multilingual teachers – together with support staff -promote a well-rounded education, in partnership with families and the wider community.
Our student body is comprised of children from over 40 different nationalities, reflecting the beauty and appreciation of many cultures. The school, through the years, has established strong links with communities, organisations and embassies including the Goethe Institute, the Confucius Institute, the French Institute, the Russian and US Embassies' educational and cultural attachés.
We provide an exemplary education to more than 1000 students, from the age of 2 ½ (Kindergarten) to 18 (A Levels / Apolytirion). We follow an enhanced version of the English National Curriculum which is delivered in a safe, modern, dynamic and technologically advanced environment.
ISOP is recognised, both nationally and internationally, and our students frequently win prestigious awards or scholarships, testament to our high academic excellence.
The school is registered with the Cyprus Ministry of Education, Sport and Youth. It is also an approved centre for two of the largest UK examination boards, CAIE (Cambridge Assessment International Education) and Edexcel / Pearson, as well as for the Ellinomatheia examinations (Greek Language Proficiency) from the Aristotelion University of Thessaloniki, Greece. In addition to IGCSE and GCE qualifications, which represent a globally established standard of education, the school's graduates receive a School Leaving Certificate (Apolytirion), which is recognised in Cyprus, the United Kingdom, and across the world.
Furthermore, we are a centre for the European Computer Driving License (ECDL), approved by the Cyprus Computer Society and CEPIS (Council of European Professional Informatics Societies), as well as for LAMDA (Drama and Public Speaking examinations). ISOP is also part of PASCH, the network of 'Partner Schools for the Future' established by the Foreign Ministry of Germany and the Goethe Institute.
STATE-OF-THE-ART FACILITIES
ISOP is situated on the outskirts of Paphos. The purpose-built campus has been designed with the students' well-being and comfort in mind, providing spacious, well-lit and ventilated classrooms. The campus consists of the Main School premises and the Sports Hall.
Purpose-built Kindergarten complex | Five Computer Labs | Four Science Laboratories | Use of multimedia technology in classrooms | Music Studio | Recording Studio | Drama Studio | Art Gallery | Library | Multi-purpose Sports Hall | Performance Shows stage | Indoor heated swimming pool | Astroturf football pitch | Outdoor athletics facilities | Outdoor basketball, volleyball and tennis courts | Media Room for presentations and screenings | Multi-purpose Room for physical and creative activities | Covered and open play areas for all age groups | Cafeteria | Sick bay | A/C & central heating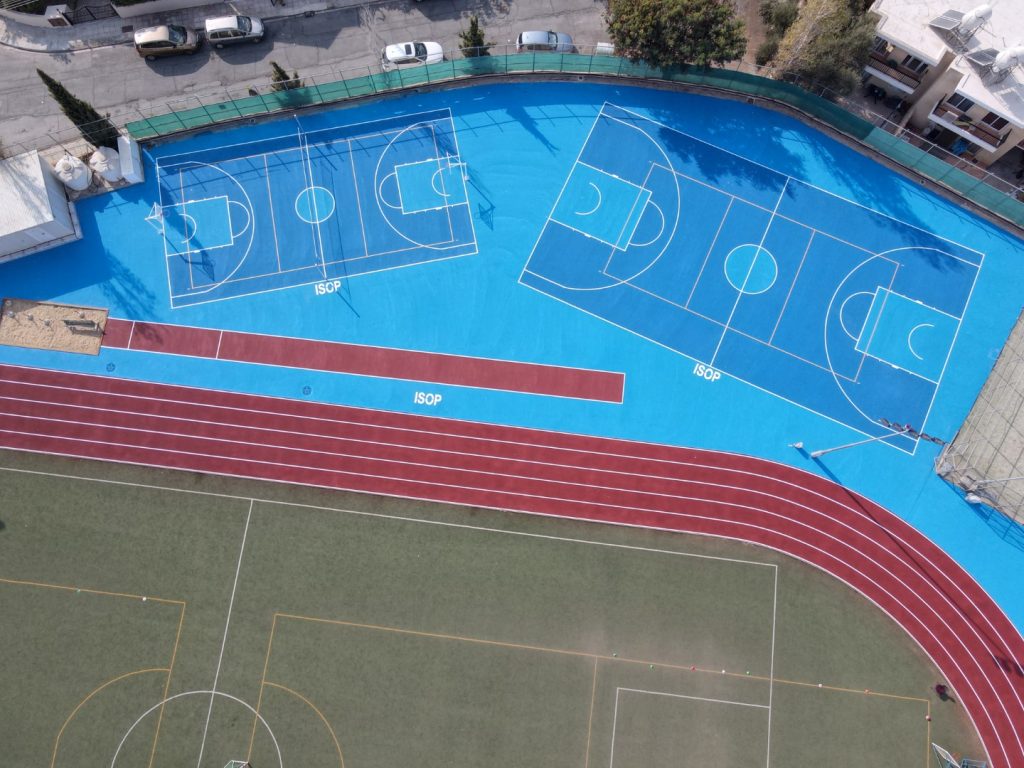 The Pastoral Care of our students plays a significant role in our school. We are dedicated to providing a high standard of pastoral care that goes further than a basic commitment to welfare, extending to every aspect of school life, in order to foster students' personal development, as much as their academic progress.
The Pastoral Team collaborates with staff to foster a friendly environment in which all students are encouraged to be responsible for their actions, to acquire independent critical thinking, to respect the needs of other, together with developing and maintaining appropriate forms of behaviour. We also strive to promote our students' spiritual, moral, social and cultural development, so that they become well-rounded and confident young people.
Each student matters in our school and the Enhancement Centre provides additional academic support, within school, to students who may have particular learning and assessment requirements. 
Teachers and tutors make provision to support individuals or groups of students, thus enabling them to participate effectively in curriculum and assessment activities. 
EXTRA-CURRICULAR ACTIVITIES
The curriculum is significantly supported by broad extra-curricular activities, which enhance a child's current studies during the school year. A wide variety of field studies and out-of-school visits offer exciting educational and cultural experiences for learners of all ages. 
Secondary School students have the opportunity to participate in European and International educational programmes, such as: Model United Nations, Duke of Edinburgh's International Award, European Youth Parliament (EYP), ECO Schools, Junior Achievement Cyprus. Community service and volunteerism are also encouraged, with our students offering their time to initiate and take part in charity work within the local community.
The school's Private Institute offers exciting possibilities for education in the afternoon. We currently offer the following subjects: English, French, German, Russian, Greek, Robotics, ECDL, Sciences, Music and others, depending on demand. 
It is licensed by the Cyprus Ministry of Education, Sport and Youth and is also a certified Vocational Training Centre (DEK) offering the possibility of implementing subsidised, co-financed training activities by HRDA (Human Resources Development Authority). We collaborate with the British Council of Cyprus in administrating international examinations.
UNIVERSITY & CAREERS GUIDANCE
Our graduates who applied to institutions of higher education have found placements in a course of their preferred field. Careers Guidance is embedded within school's curriculum and our dedicated Careers Team guides, oversees and supports the meticulous process of selecting appropriate university destinations, courses and professional fields for our students. 
This careful process includes one-to-one meetings at an early stage, that allows students to make informed decisions regarding their optional subjects for the IGCSE, as well as A Level curriculum. The students are guided to complete their application to universities all over the world, including British universities through UCAS, the USA, the Netherlands, and other parts of the world. A series of workshops, visits and presentations by guest speakers from local and international businesses, enterprises and universities are offered to enable students to make informed choices.